Dedication.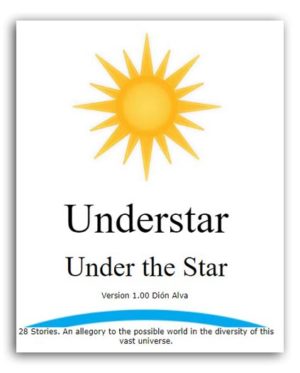 Understar English Book Official website
 PDF     Ebook
This translation was made by a digital translator.
I hope you know how to forgive the mistakes.
Using the technological tools to try to communicate is one of the privileges of this time.
Written done with intention to keep record of a supposed existence in this nebula of sensations, emotions, reasoning and unreason conjectures.
Covered by the good feeling of those who promote friendship, love and harmony.
My actions and actions are reflections before the apparent reality of the established life, not only by nature, mainly by the entity of the human condition and its culture.
I thank the beings, from the origin to the end.
Companions of the exciting journey of life and the circumstances that united us in this fleeting whirlwind, where the scenario is the universe.
My origin of being without a libretto, forming in the emotional environment, accumulating knowledge and experience, trying to understand its reality of being. Leaving aside the character that survives, in this predatory planet.
I dare to expose who I suppose I am, perhaps without being.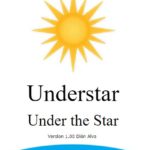 Thanks, sweethearts
Index html
Foreword 4
1º. Hats and capes. 5
2º. Our grandson is on the moon. 10
3º. The math teacher is sick. 14
4º. Address. 21
5º. What's up there? 26
6º. The fathers of the gods. 29
7º. Perpetual sunrise. 32
8º. Where it is?. 39
9º. It is impossible for me 42
10º. Storm. 46
11º. Scanning the sky.  50
12º. The thing and His capture. 54
13º. Prevention. 56
15º. Perfect sunset. 61
16º. The hermit. 66
17th Let's talk about love. 71
18th New message. 76
19º. The stir. 80
20º. Quantum I love you Bis!. 83
21º. Pass us your data of the Networks!. 84
22º. What's wrong?. 87
23º. Did you notice something strange?. 89
24º. Today is the day. 96
25º. The catharsis. 99
26º. Dialogue without witnesses. 103
27º. Review and clarifications. 110
28º. Penultimate day, special act. 113
Epilogue 116
Causes of the imposed control of pheromones
Understar: To perceive unipersonal, of the behavior of cultures, world powers and multinationals. Yes, to the International Criminal Court, And the full validity of Human Rights. Yes to all opportunities to Peace without authoritarianism.www.understar.org contacto@understar.org
This work is protected by copyright. The content of this work for commercial use has, All rights reserved © 2019 Dión Alva, author.